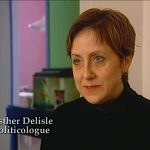 Le Devoir, the nationalist Montréal daily published a harsh reaction to Esther Delisle's thesis on Québec's anti-Semitism in the 1930s and 40s as explored in the documentary «Je me souviens». Is this just a quarrel among historians or symptomatic of hidden evil?
Je me souviens – A Film that Plays with the Truth

On Sunday April, 28th Canal D broadcasted Je me souviens, a film by Eric R. Scott, with the participation of Esther Delisle and Jacques Zylberberg, the latter's research director. Two subjects are intertwined: the antisemitism of the leaders of French-Canadian nationalism in Quebec during the interwar period and beyond; and the intellectual adventure of Ms. Delisle, supposedly the victim of a nationalist plot to gag her and prevent her from revealing to the world the Pétainism and antisemitism of the French-Canadian elite.

– Pierre Trépanier – April 7, 2010 – Le Devoir (loose translation) –
▸ The entire text in French of this op-ed is available here online.