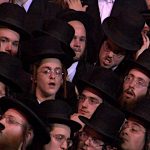 Louise Dussault met Eric Scott to talk about his 2008 film, "Leaving the Fold". This interview was published in the weekly 24h Montréal:
Quitter le bercail: un documentaire-choc signé Eric R. Scott

"J'ai été bouleversé par cette histoire et par toutes celles que j'ai entendues lors du tournage. Alors que certains jeunes quittent la communauté parce qu'ils n'ont plus la foi, d'autres le font parce qu'ils ne tolèrent plus les pressions sociétales et qu'ils ont d'autres ambitions. Dans les cas les plus extrêmes, les familles récitent le Kaddish (la prière des morts) en mémoire du disparu", explique M.Scott, ajoutant que cela demande une bonne dose de courage pour faire le pas et se dissocier de la communauté.

– Louise Dussault – September 4, 2008 – 24h Montréal –
▸ The entire article in French is available here online.