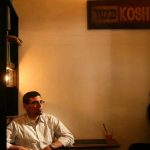 The Australian daily Sydney Morning Herald published an article about the screening of 'Leaving the Fold' at the 2008 Limmud-Oz Jewish Culture Festival in Melbourne:
Leaving the fold

When he was 18, Menachem "Manny" Waks flew to Israel, to enrol in the Israeli army. For some Jewish men his age, this is a rite of passage; for Waks, it was even more poignant, as it marked the moment he left behind his Hasidic Jewish roots to start living his life as a secular Jew. (…) At Monash University tonight, Waks will introduce Leaving the Fold, a documentary about ultra-Orthodox Jews in Canada, the US and Israel who try to free themselves from their sheltered communities — and often have to go it alone in the process.

– Rachelle Unreich – June 24, 2008 – The Sydney Morning Herald –
▸ The entire article is available online.